Be A Hero is a people-powered organization that takes on impossible fights. We lift up the voices of American heroes who stand up to powerful politicians and big money interests in the most important David versus Goliath fights of our time. Our story began in 2017 with a man named Ady Barkan.
Ady Barkan's choice
October 2017: Four months after the birth of his son Carl, Ady Barkan was diagnosed with ALS. Confronting his own mortality, Ady had to decide how to make the most of his remaining time.
Learn More
Ady confronts Jeff Flake
December 7, 2017: On a flight home from Washington, D.C., Ady happened to sit near United States Senator Jeff Flake. With his family's medical bills mounting, Ady decided to take this opportunity to confront Flake over the GOP tax bill, which threatened to disrupt his health coverage. The impassioned conversation between an ordinary person and a powerful senator, captured on video, sparked the imagination of millions by showing how heroic active citizenship can be.
Learn More
Be A Hero Tour
Summer 2018: Ady and the Be A Hero team organized a nation-wide "Summer of Heroes" bus tour from California to Maine, over 22 states in 40 days, organizing and energizing people to vote in the midterms, and confronting members of Congress who voted for the GOP tax bill in their home districts.
Election 2018
Fall 2018: Using footage of Ady's confrontations with members of Congress from the tour, Be A Hero aired advertisements in top Congressional races. Our ads tested in the top 1% on mobilization and top 3% on persuasion, and they were run in over 100 districts in the 2018 election. Through work with partners like House Majority PAC, $2,000,000 was put behind our health care ads. All of our targeted GOP incumbents were defeated by Democratic challengers.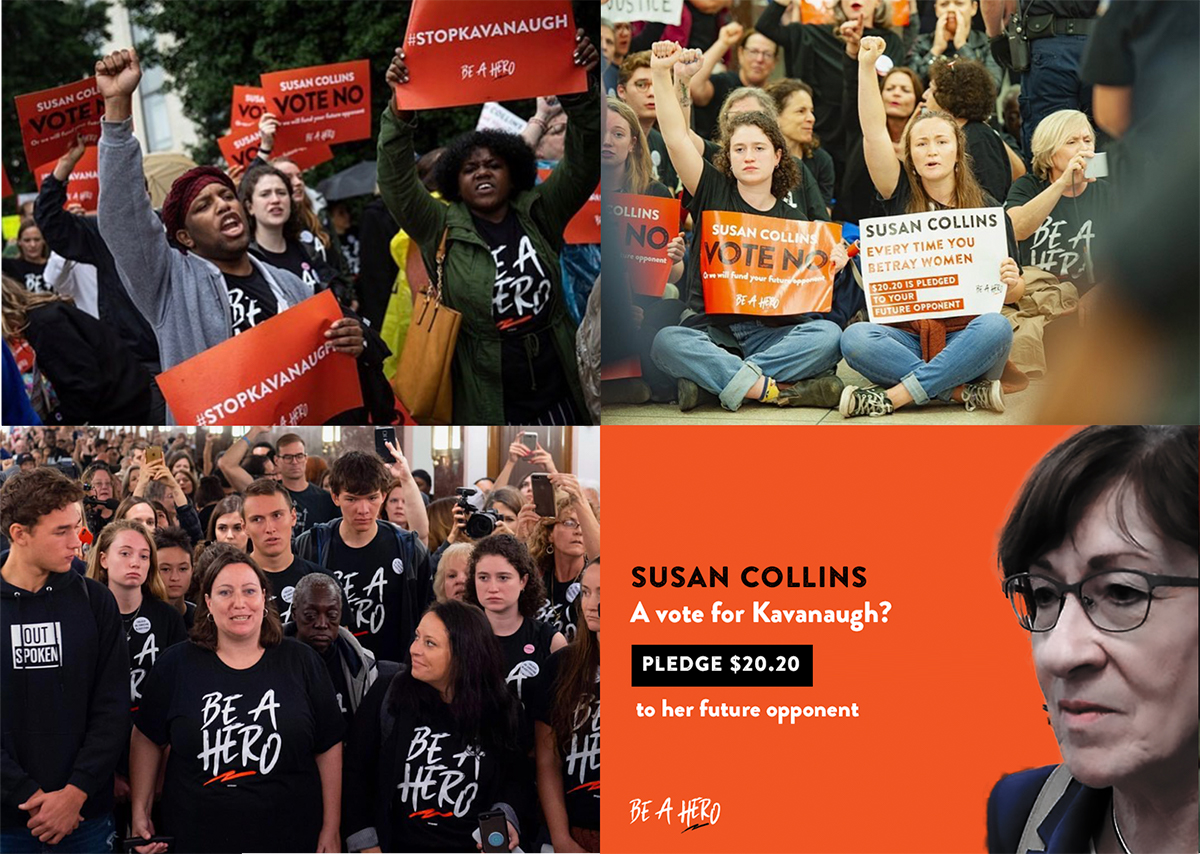 Kavanaugh fight
August 15, 2018: As Ady finished his tour in Maine, Donald Trump nominated Brett Kavanaugh for a seat on the Supreme Court. Ady watched in horror as GOP senators swallowed Kavanaugh's past statements on issues like health care and abortion -- the GOP senators who were signing off on Kavanaugh would never have to face any consequence for betraying their constituents, while the American people would suffer gravely under a right-wing majority on the nation's highest court.
Ady and Be A Hero decided to fight back. Working with activists in Maine and D.C., we launched a crowdfunding campaign challenging Collins to be a hero and vote "no" on Kavanaugh -- or we'd fund her future opponent. Through heroic activism and people-powered, small-dollar donations, Be A Hero broke through in the media and raised $4.1 million for the Democratic nominee to defeat Collins in 2020. We will not rest until she is defeated in November 2020.
Fund Susan Collins' Future Opponent
Susan Collins betrayed her constituents when she voted for Brett Kavanaugh. We raised $4.1 million for her future opponent in 2018, and we won't stop until we finish the job.
Donate $20.20 Now
#ShutdownMitch
Mitch McConnell is bragging about making the Senate a "graveyard" for legislation that would help working people in America, labeling himself the "grim reaper." Be A Hero is working with local Kentucky organizers to fund Mitch's future opponent and bring Mitch down in 2020.
Donate $20.20 Now
Uncovered: Health Care Conversations with Ady Barkan
The presidential candidates and their campaigns are doing their best. But the composed speeches, the empty one-liners, and stilted debates have not given us better health care. That's why he decided to host "Uncovered: Health Care Conversations with Ady Barkan." This collaboration between Ady, Be A Hero, NowThis News, and Crooked Media consist of interviews with the candidates who want to lead our nation, and features the stories of Americans who have had personal experiences with our unjust health care system.
Learn More
The Movement Fights On.
Today, Be A Hero is working to finish the fight in Maine and take our people-powered justice model to new battlegrounds. Together, we will end the careers of Susan Collins, Mitch McConnell, and any other Republican officeholder who betrays the American people. Join our fight today.