Be A Hero is a people-powered organization that takes on impossible fights. We lift up the voices of American heroes who stand up to powerful politicians and big money interests in the most important David versus Goliath fights of our time. Our story began in 2017 with a man named Ady Barkan.
Ady Barkan's choice
October 2017: Four months after the birth of his son Carl, Ady Barkan was diagnosed with ALS. Confronting his own mortality, Ady had to decide how to make the most of his remaining time.
Learn More
Ady confronts Jeff Flake
December 7, 2017: On a flight home from Washington, D.C., Ady happened to sit near United States Senator Jeff Flake. With his family's medical bills mounting, Ady decided to take this opportunity to confront Flake over the GOP tax bill, which threatened to disrupt his health coverage. The impassioned conversation between an ordinary person and a powerful senator, captured on video, sparked the imagination of millions by showing how heroic active citizenship can be.
Learn More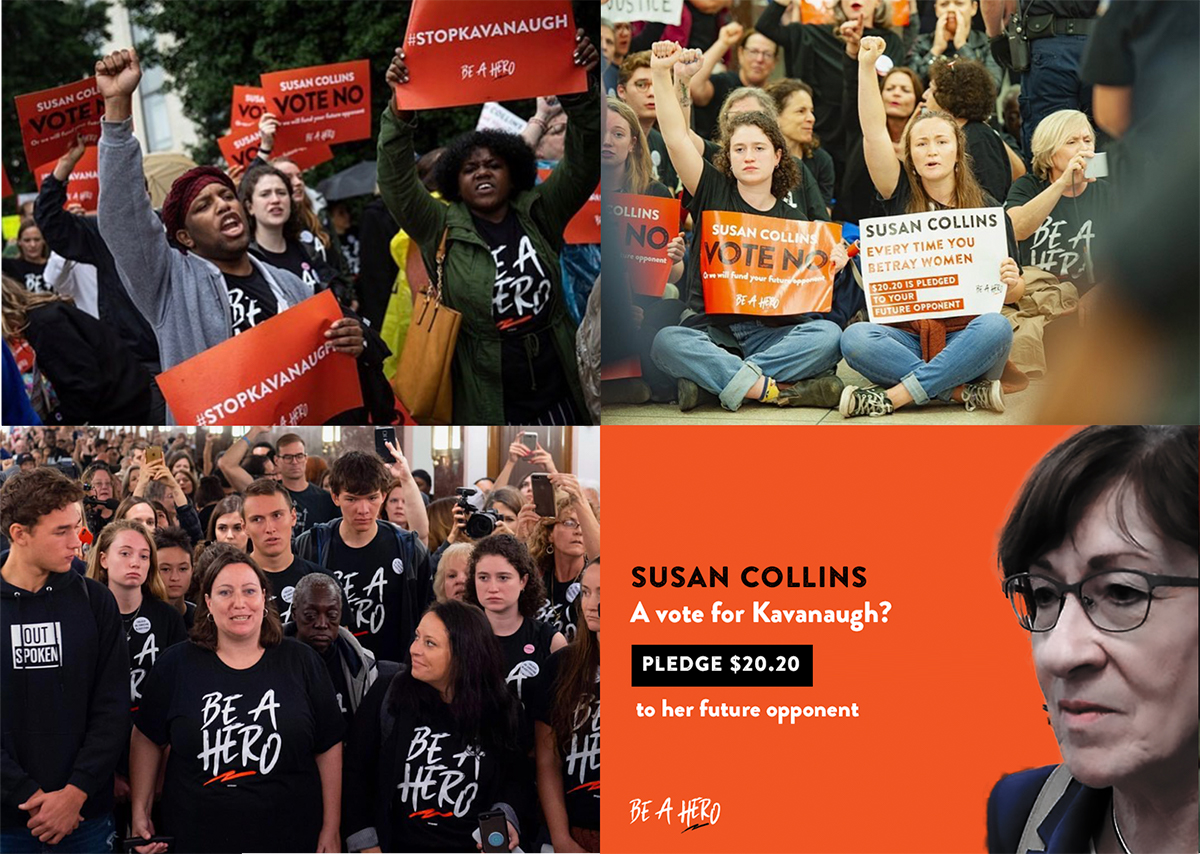 Kavanaugh fight
August 15, 2018: As Ady finished his tour in Maine, Donald Trump nominated Brett Kavanaugh for a seat on the Supreme Court. Ady watched in horror as GOP senators swallowed Kavanaugh's past statements on issues like health care and abortion -- the GOP senators who were signing off on Kavanaugh would never have to face any consequence for betraying their constituents, while the American people would suffer gravely under a right-wing majority on the nation's highest court.
Ady and Be A Hero decided to fight back. Working with activists in Maine and D.C., we launched a crowdfunding campaign challenging Collins to be a hero and vote "no" on Kavanaugh -- or we'd fund her future opponent. Through heroic activism and people-powered, small-dollar donations, Be A Hero broke through in the media and raised $4.1 million for the Democratic nominee to defeat Collins in 2020. We will not rest until she is defeated in November 2020.
Uncovered: Health Care Conversations with Ady Barkan
Ady and the team at Be a Hero are talking with Americans across the country about their experiences with the health care system.
Our conversation range from current and former candidates who want to lead our nation to patients, activists, and health care workers fighting and victimized by our unjust health care system.
Why Joni?
The Violence Against Women Act is up for renewal in the Senate. It's a simple, but powerful law: it protects women from domestic violence. The new bill includes new protections to keep convicted stalkers and abusive boyfriends away from firearms – an idea the NRA hates.
Joni Ernst is a survivor of sexual assault. She should know that for many women, this is life or death. But since the NRA came out against it, Joni has shamefully buried and abandoned the Violence Against Women Act.
Iowa women are coming together to ask Joni: "Why?"
Add Your Name
Fund Susan Collins' Future Opponent
Susan Collins betrayed her constituents when she voted for Brett Kavanaugh. We raised $4.1 million for her future opponent in 2018, and we won't stop until we finish the job.
Donate $20.20 Now
#ShutdownMitch
Mitch McConnell is bragging about making the Senate a "graveyard" for legislation that would help working people in America, labeling himself the "grim reaper." Be A Hero is working with local Kentucky organizers to fund Mitch's future opponent and bring Mitch down in 2020.
Donate $20.20 Now
Ditch Cory Gardner
Senator Corey Gardner betrayed the will of Colorodans by voting to acquit President Trump. Now, we're going to replace him.
Donate $20.20 Now
The Movement Fights On.
Today, Be A Hero is working to finish the fight in Maine and take our people-powered justice model to new battlegrounds. Together, we will end the careers of Susan Collins, Mitch McConnell, and any other Republican officeholder who betrays the American people. Join our fight today.